Georgia Impact Lewis Joins Bombers Fastpitch
​​Bombers Fastpitch Organization is extremely pleased and proud to announce that the former Georgia Impact 18u – Lewis team will be joining the Bombers Fastpitch Program. Please help us welcome the newly proclaimed Bombers Gold 18u – Lewis team! We are excited to welcome the players, coaches, and their families to the Bombers Fastpitch Organization.
 Coach Patrick Lewis and his team won PGF 18U Nationals in 2018, finished 2nd in 2019, 5th in 2021, and finished 3rd at ASA for 12u in 2016. In addition, to producing success on the field, Coach Lewis and his staff have generated a laundry list of players that have moved on to compete at the highest level. Here is just a small list of former players that went on to compete at the collegiate level…
Dallis Goodnight (Alabama, 2021 grad), Jaiden Fields (Georgia, 2019), Karley Heath (South Carolina, 2019), Charla Echols (Florida, 2018) Skyler Wallace (Florida, 2018), Hannah Adams (Florida, 2017), Jana Johns (South Carolina, 2017), Ashley Morgan (Tennessee, 2017), Haven Sampson (Florida, 2017), Gabby Sprang (Tennessee, 2017), Ava Tillman (Ole Miss, 2017)… to name some going back just last five years alone.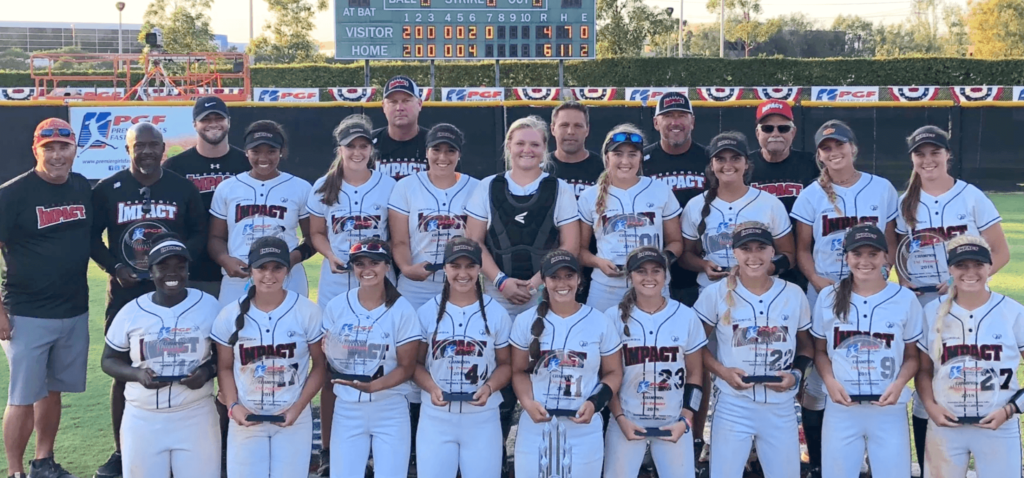 In addition, the current team also has players already signed or committed to Auburn, Florida, Georgia, Georgia Tech, LSU, Minnesota, Ole Miss, UCLA, etc. Lewis states that the Bombers organization and Program Director/Head Coach Scott Smith vision aligned with everything he and his coaching staff were looking for in an organization.
"It's just the fit right," Lewis added. "Our vision is aligned with theirs and I was impressed with Scott's integrity and how he wants to do this for the right reasons: for the athletes."
A word about the annex between Georgia Impact – Lewis and Bombers Fastpitch from Program Director / Head Coach Scott Smith…
"It's good for us as a program and it's good for the sport," Smith believes. "The addition of Patrick, Lincoln, and their entire group is game-changing for us. Their ability to coach players up at the highest level will be incredible for our growth in the Southeast including the Georgia, South Carolina, and Alabama areas. I could not be more excited than I am to have those guys leading the way for us going forward in that part of the country."
The new Bomber Gold 18u – Lewis team will keep their current schedule, staff, and players, making this a seamless transition to join the Bomber Nation! It is important to them as they move to be a part of the Bombers Fastpitch Organization to build on the success they've already had and gain full access to the Bombers player development staff, coaches training workshops, and recruiting seminars. They will also benefit from the discounts offered by the program's sponsors Easton, New Balance, and Black Star Athletics.
We are excited to see the Bombers Gold 18u – Lewis team take the field this summer in a Bomber uniform representing our program excellently! Make sure to keep a lookout for them and grace them with a warm Bomber welcome! Check out their upcoming schedule below and the current 2022 roster!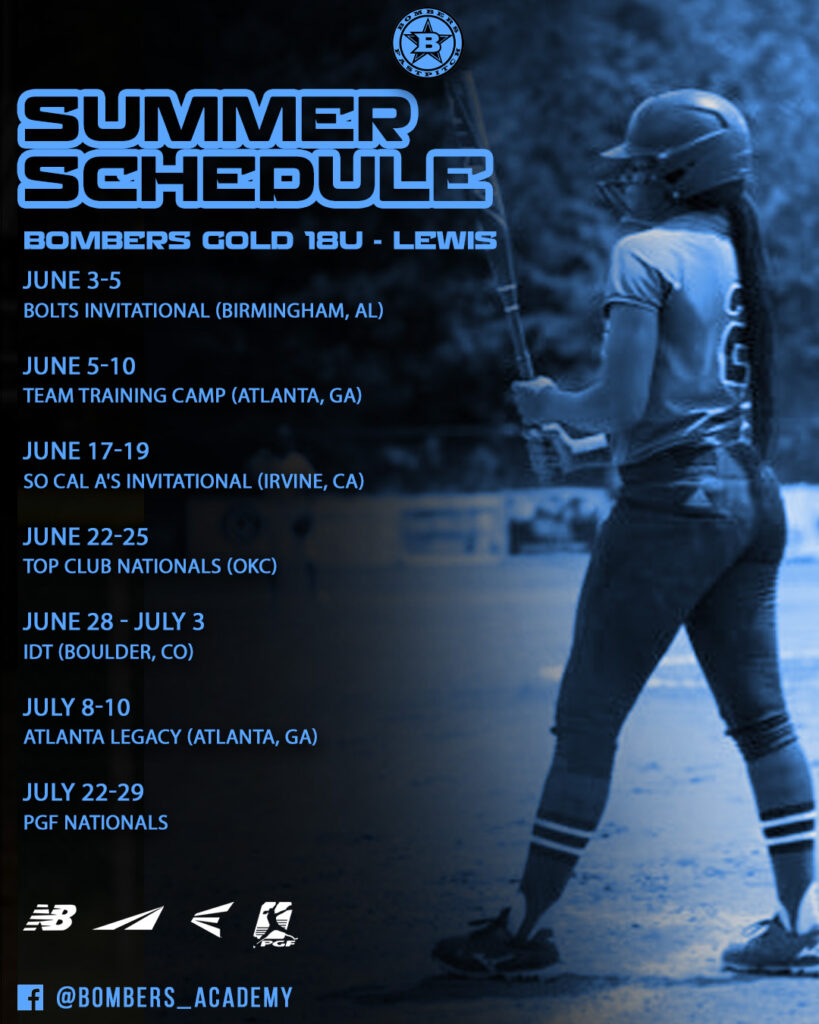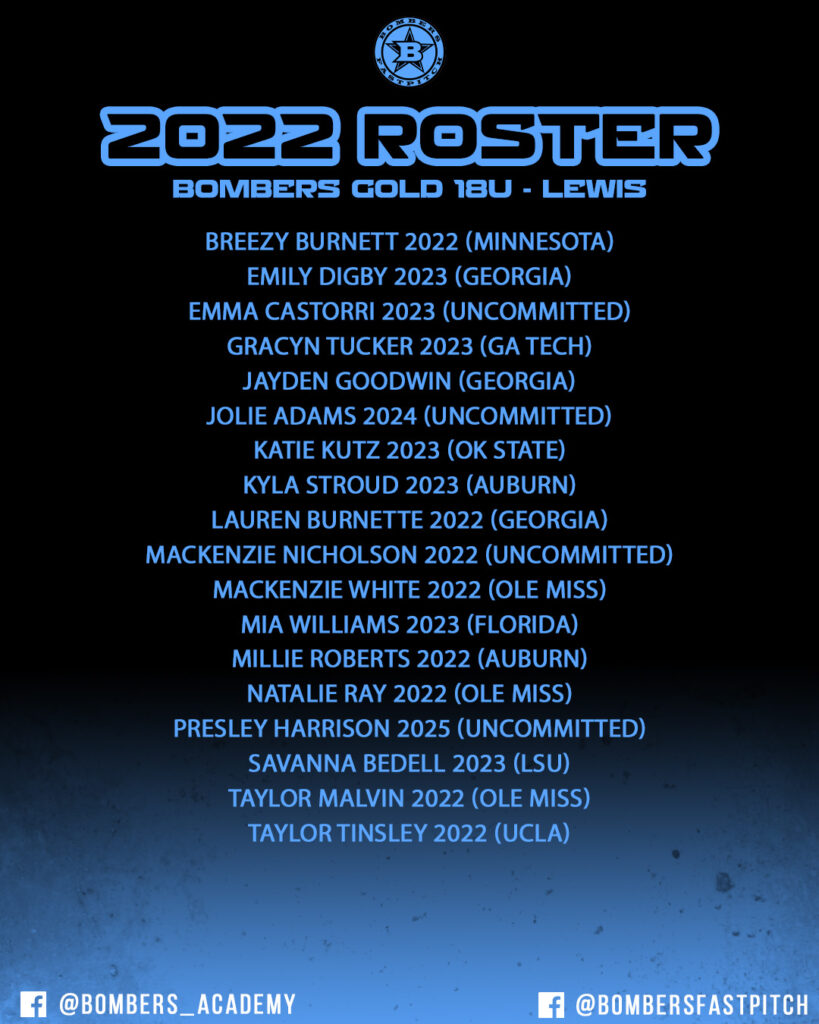 About Bombers Fastpitch The Bombers are a Junior Olympic Fastpitch Softball Program headquartered in New Braunfels, TX, which began competition in 2001. The Bombers provide elite softball players the opportunity to pursue collegiate scholarships and compete at the highest levels. Located in thirteen states (Texas, Louisiana, Arizona, Alabama, Colorado, Oklahoma, Mississippi, Missouri, Illinois, Tennessee, Florida, Arkansas, and now Minnesota) the Bomber organization and its players are committed to demonstrating leadership in community involvement and professionalism. Follow the Bombers at www.bombersfastpitch.net